Gradito has implemented an Integrated Management System for Quality Health Safety Environment Welding according to international standards.
The part of the system concerning Quality is implemented in accordance with standard 9001.
The company has suitable equipment and means for the realisation of both the process and the product / services.
Toperform the activities, it has qualified and specialised staff: Hydraulic Technicians who have taken specialisation courses with Bosch Rexroth, Qualified Welders (IIS, BV, ....) Level II CND Operators, Welding Coordinator, specialised Crane Operators who have taken courses with world manufacturers as Liebherr, staff who have been certifified on survival and rescue at sea courses.
Gradito has as its top priority the protection and health of the workers, the safety of industrial plants and the protection of th environment, so the integrated management system is implemented in accordance with the standards BS OHSAS 18001 and ISO 14001 and follows the cycle Deming (Plan – Do – Check – Act) (ITA_ "Plan – Fare – To verify – Sam ").
Scegli la sicurezza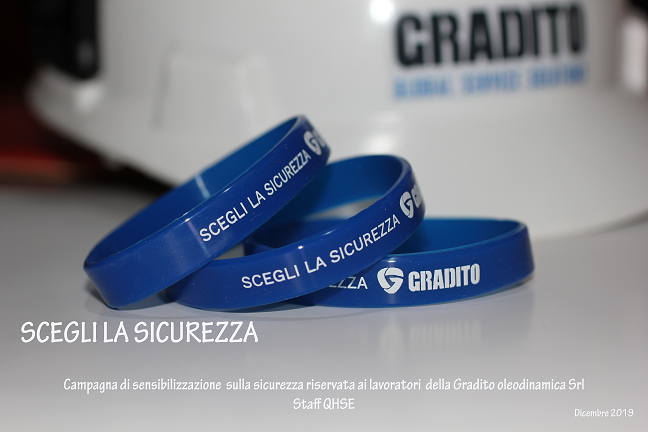 La Gradito Oleodinamica S.r.l., ha condiviso con i suoi lavoratori i prodotti realizzati al fine di trasferire i contenuti e lo spirito dell'evento "I sure am".

Per una maggiore condivisione a tutti i lavoratori sono stati distribuiti braccialetti in silicone con la dicitura "scegli la sicurezza", con l'impegno ad indossali per un periodo, affinché "scegliere la sicurezza" diventi una abitudine. L'attività sarà promossa durante l'anno 2020 e in ogni trimestre, un gruppo di lavoratori sarà invitato dallo staff HSE della Gradito Oleodinamica S.r.l. a realizzare un foto clip sulla tematica in oggetto.

I foto clip creati a fine anno verranno condivisi con tutti i lavoratori e si procederà alla premiazione con targhetta ricordo.